Calrad is currently working on various new prototypes for the next xLobby hardware platform named (Noir) expected out early January 2010 to compliment existing hardware. These new pieces of hardware will fearture full passive cooling with no fans, optional built-in wi-fi, optional optical drives, optional solid state hard drives with hardware to support standard mpeg video playback or standard mpeg + blu-ray playback. Operates from either from 110Vac or 12Vdc, optional 19″ Rack mounting kits. Support options for component, DVI, HDMI, VGA video. Lots of exciting things are planned for 2010. Detailed specifications and more images available soon, stay tunned.
95-2010BR Noir xLobby Bluray Client Brochure: http://www.xlobby.com/pdf/xLobby%20Noir%20Series%20Brochure.pdf
Front of xLobby-Noir Series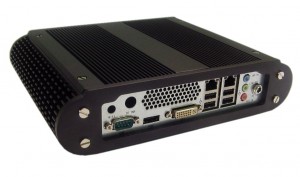 Rear of xLobby-Noir Series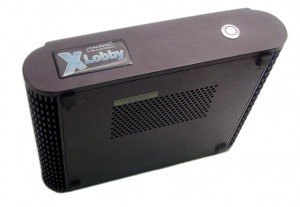 Sitting up View of xLobby-Noir Series

xLobby-Noir Series with optical drive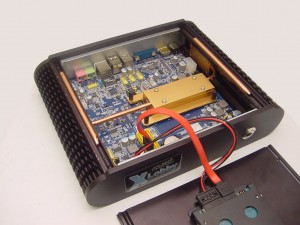 Inside view of the most rescent xLobby-Noir prototype Hardware.
Wes Black \ Calrad