New xLobby Release
xLobby will now support Blu-Ray storage and playback
xLobby V3 – Build 3.0.9166.25
=======================
– 0000548: [generic] New Event: Create thumbs for specific category (stevenhanna6) – resolved.
– 0000560: [setup] can't add new lines to meta masks and ignore masks (stevenhanna6) – resolved.
– 0000472: [generic] Text Flow (stevenhanna6) – resolved.
– 0000561: [generic] "test event" in the drop down menu (stevenhanna6) – resolved.
– 0000574: [generic] always present audio mediaplayer added for playing files called "background" (stevenhanna6) – resolved.
– 0000335: [generic] XL looses focus when web browser loads (stevenhanna6) – resolved.
– 0000576: [skin editor] opening skineditor on screen with multiple overlays doesn't work correctly (stevenhanna6) – resolved.
– 0000564: [generic] triggers enable/disable/toggle group command did not save settings on exit (stevenhanna6) – resolved.
– 0000566: [plugin] support for new dvd fab 6 (stevenhanna6) – resolved.
– 0000569: [generic] import index.bdmv files like dvd ifo files, for external player launch like arcsoft (stevenhanna6) – resolved.
– 0000571: [generic] 30 minute timeout feature that closes setup and skin editor if left open (stevenhanna6) – resolved.
– 0000573: [skin editor] sliders for audio zones (stevenhanna6) – resolved.
– 0000575: [generic] if command is disabled and within a logic expression it is still runs (stevenhanna6) – resolved.
– 0000578: [generic] sorting by "genre" was slow sometimes (stevenhanna6) – resolved.
– 0000559: [generic] category>xxx>field>-1,+1 ect does not work (stevenhanna6) – resolved.
– 0000565: [generic] when in mimic mode don't show exit overlay (stevenhanna6) – resolved.
– 0000567: [generic] crashing on music area if no content imported (stevenhanna6) – resolved.
– 0000570: [generic] webbrowser causes kernel crash if webpage thinks it can close the window with javascript (stevenhanna6) – resolved.
– 0000572: [skin editor] saving changes popup could become hidden on certain screen with mediaplayer or web browser (stevenhanna6) – resolved.
1.  Background Images Random feature.
2. Improvements to the lighting service.
3. Volume Sliders events for multizone audio.
This new release includes the ability to store and playback Blu-Ray DVDs to your hard drive. For Blu-Ray playback xLobby uses the Arcsoft software platform, you can download the trial version for evaluation before you purchase the software. The new build includes the ability to seemlessly use the xLobby remote to control the arcsoft player. If you wish to use your own remote control then modify the existing remote control triggers in the skin editor under triggers to your specific remote and keys. The xlobby spider system will automatically download standard movie artwork and modify it to overlay the Blu-Ray DVD design. The import process for Blu-Ray movies is the same as for Mpeg2 DVDs, except for some of the Menus indicate the disc is Blu-Ray.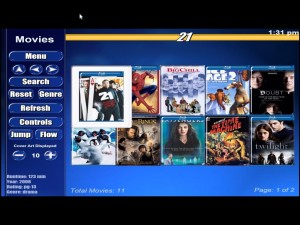 Screenshot of Blu-Ray and standard DVDs in the same database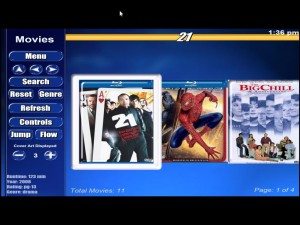 Screenshot of Blu-Ray Artwork overlay
Screenshot of Search movies by Genre or Blu-Ray only overlay
See if your system supports BluRay playback:
http://www.arcsoft.com/public/content_page.asp?pageID=1431
Arcsoft link:
http://www.arcsoft.com/public/software_title.asp?ProductID=362&dyContent=LANG_DOWNLOAD
Use this version of DVDFab HD Decrypter:
http://www.brothersoft.com/download-dvdfab-hd-decrypter-61937.html
The xLobby remote control now works with Hulu, users can modify the remote control triggers for Hulu to suit there specific remote control.
This news post is subject to change.
Wes Black