What is Xpad:
Basically xLobby is using  HTML to recreate a more dynamic 2 way interface to generate all of the same xLobby control GUI menus that  already exist in xLobby for any web based device without having to redesign the complete interface for different devices. Different menus can be created for different devices. Remember this is the first release and we will be updating the Xpad platform on a regular basis.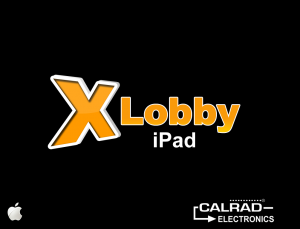 xLobbyx new xPad Ipad splash screen screenshot
Setting up xLobby Xpad:
First download current xLobby release or bleeding edge release.
Web Browser Control
using xLobbys new built in Web Server
iPad, Android, iPhone, Droid, firefox, internet explorer
XLobby can be controlled using a browser based device in using two
different methods.
1. Direct control, anything you do effects the xLobby interface your
connected too, xLobby serves up HTML jpeg image requests (Old Method).
New xLobby Xpad control
2. Independent control, each client device is on its own and has no
effect on the interface. Any page after the web will load.
Example: http://192.168.254.165:8002/web/Ipad Demo Menu
To correctly size a existing Skin menu for a particular device, clone the menu and set the viewport to the correct resolution. Note you will need to do this for each menu you want to view or control. Soon we will be adding a simple way to clone a menu on the fly to the correct resolution for Xpad.
So if you want to test one of your own menus, this is the format:
http://192.168.254.165:8002/web/
Your
Page Name Here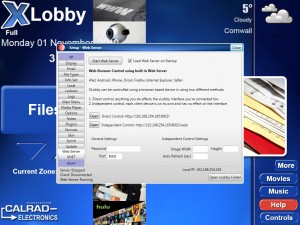 Screenshot: Setup webserver menu in xLobby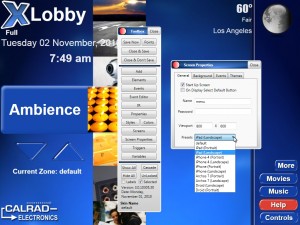 Screenshot: Skin editor, Screen properties, Viewport settings
Screenshot Ipad demo menu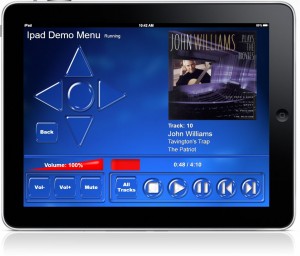 Ipad demo menu on a Ipad.
Ipad demo menu for the default skin. This simple meu will control the navigation of xLobby has the ability to adjust the master volume, load up all tracks in your music library and offers media playback controls.
Ipad Demo Menu.xml, use right click Save target as… to download the file.
Link: http://www.xlobby.com/forum/download/file.php?id=1222
Install this file in your skin folder
See this News post for future details and features.
http://xlobby.com/news/2010/10/28/xlobby-v3-update-new-dynamic-html-webserver-available-soon/
If anyone is interested in sharing there Xpad menu designs or videos of them using the Xpad system on Ipads, Cell Phones or other devices, please post the details at this link.
http://www.xlobby.com/forum/viewtopic.php?f=54&t=7379
This News post is subject to updates.
Wes Black