xLobbys new platform for home automation and control using Dells new Studio One 19 All-in-One System with (18.5″ HD Widescreen Display Touchscreen) and IR remote control interface with either hardwired or wireless ethernet connectivity. Integrates with all xLobby systems.
xLobby studio One 19 is an all-in-one desktop computer that fits both the tower and monitor into a stunning, space-saving design. The result is a simple, one-cable setup with substantially fewer wires or go completely wireless with its built-in wi-fi. The xLobby Studio One 19 will fit seamlessly in your office, kitchen, family room, home theater or just about anywhere.
Now Shipping,  Calrad-xLobby Part Number: 95-2009-SO19
Features:
Crystal clear 16:9 widescreen flat panel HD display
Optional QAM TV tuner
The integrated 1.3-megapixel webcam* and a built-in microphone allow you to easily stay in touch with friends and family
Easy data transfer options, including a 7-in-1 media card reader, 6 USB drives, IEEE 1394a data ports, integrated gigabit Ethernet and more
Maintain independent toucscreen control with xLobbys optional external graphics card for external video and audio to your favorite projector or large screen plasma-LCD display, so control your environment while video is playing on the second video output.
Reach out and explore the xLobbys Studio One 19's 18.5″ display with optional multi-touch screen functionality on a choice of 4 color fabric trim options or Solid Pure White trim border.
xLobby Iphone Skin pictured by: Andy Grooby
Skin Link: http://www.xlobby.com/forum/viewtopic.php?f=49&t=6841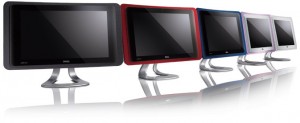 Five Colors to choose from to match any decor.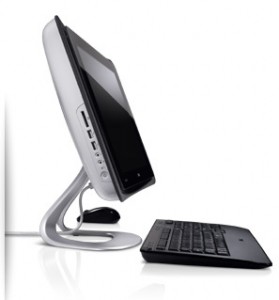 Technical Specifications:
Processor & Chipset 
Intel®  Pentium®  Dual Core (5200, 5400)
Intel®  Core 2 Duo (E7500, 8400)
Intel®  Quad Core (Q8200)
 
Chipset
NVIDIA MCP 7A chipset
 
 
Operating System 
Genuine Windows Vista®  Home Premium 64-bit
 
Memory 
4GB3 Dual-Channel DDR2 SDRAM at 800MHz – 2 DIMMs
 
 
Hard Disk Capacity 
320GB4 – 7200RPM, SATA 3.0Gb/s, 16MB Cache
  
 
Optical Disc Options 
Single Drive: 16X CD/DVD burner (DVD+/-RW) w/double layer write capability
Optional: Single Drive: Blu-ray Disc Combo (DVD+/-RW + BD-ROM)
 
 
Graphics & Video 
NVIDIA GeForce 9200
NVIDIA GeForce 9400
 
 
Display 
18.5″ 16:9 WXSGA, CCFL (1366x 768)
 
 
Sound Cards 
Audio support
Integrated 2.0 Audio
Optional Digital 5.1 Audio (SPDIF)
 
 
Speakers 
2x4Watt Side Speakers
 
 
Communications 
Integrated Ethernet (10/100 Base-T) standard
 
 
Wireless Keyboard & Mouse 
RF Keyboard and Mouse
  
 
Ports 
Side Ports
Optical Drive ((DVD+/-RW, Blu-ray DiscTM ))
Headphone port / Line-out connector
Microphone / Line-in connector
7-in-1 Card Reader
USB 2.0(2)
 
Rear Ports
RJ45 10/100 Network port
2.1 Audio Line-out connector
Wireless Keyboard and Mouse synch button
USB 2.0(4)
 
 
Chassis & Case 
All-in-One Desktop Computer
 
Dimensions & Weight
Height: 21.9″ (558mm)
Width: 15.5″ (395mm)
Depth: 3.2″ (82mm)
Weight: about 22.7lbs (10.3 kg)
Power: 180 Watts
Link to Dells website for more information:
http://www.dell.com/content/products/productdetails.aspx/desktop-studio-one-19?c=us&cs=19&l=en&s=dhs&ST=studio%20one%2019&dgc=ST&cid=42908&lid=1097934&acd=52183,8,0,78599578,645765769,1241239496,,15716355,2962732251
 This page is subject to updates and revisions. 
Wes Black