We are now in the home stretch of finishing Calrads new Training & Demo room for Installer training and customer demos of Calrad products and all the xLobby technology. This News Post will be updated on a regular bassis with new Information, Videos and images of the room as we move forward.
A few room equipment facts:
1. xLobby client, xLobby Mini Client, 2TB Nas plans to increase as needed, several USB 1TB external hard drives
1. Room Speakers (Earhquake) Products (7.2 surround setup)
2. Yamaha Receiver (7.2 Surround)
3. Insteon & UPB Lighting
4. Panasonic Webcam
5. GE and ELK Security Systems
A few images of the room:
1. LG 50″ LCD with articulating arm so the display can move away from the wall or from side to side. Plans include the ability to increase the display size later. Yes the display looks off center because the display is pulled away from the wall, so when we shot the picture it favors the left side.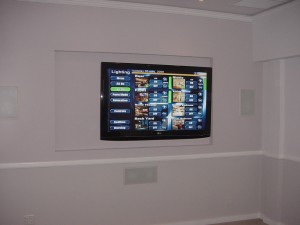 xLobbys new 15″ inwall touchscreen with annimated background and without the trim plate installed.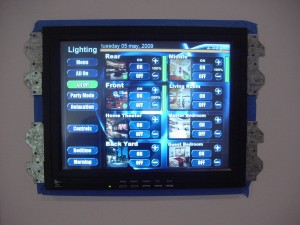 Inwall equipment rack + Panasonic webcam shown above with full pan, tilt, zoom. The glass shelves on each side will use multicolored L.E.D lighting to illuminate them, all of these products are  control by xLobby. the shelfs will have various remotes, web tablets, automation items.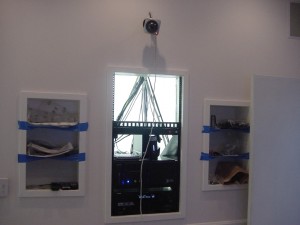 The videos shot are low quality, we will update the videos later to HD, with a proper narration of course.
Below are a few videos of xLobbys new 15″ inwall touchscreen controlling Insteon lighting.
We just put the new 15″ touchscreen in the wall, shown without the trim frame to finish it off, work in progress.
Video 1
xLobby 2 way communication of 3 insteon lighting zones, with real time updates. The green and red icons are tied to the lighting events as well as text based logic and on\off  values with realtime interactive green vertical sliders.
Videos 2 and 3
These videos show xLobby lighting attached to some Movie playback events, Play any movie and the lights go to a specified value or completely off, stop the movie or leave the media player and the lights come on to a preset value or 100% on. The lighting can be preset to certain genres of Movies or Music that is selected, based on the time of day or user.
  
Wes Black