Here is the latest news on the xLobby room. Three xLobby systems are now working in the room to provide customers and end users with the ability to see how each system works by itself or together as if installed in a home setting. The first standard xLobby client with 4 zones of audio that can be controlled using 2 x  15″ touchscreens and a 12″ wi-fi tablet running xLobby xNet client server,  a standard xLobby remote and a xLobby 95-1074TSR  touchscreen Zigbee remote. The second xLobby client is a xLobby Blu-Ray machine for demontrating xLobbys ability to store and playback Blu-Ray dvd's. The third xLobby is a xLobby mini client that is an in-expensive alternative for users that are just interested in simple content management and want a small quiet xLobby system with the ability to unlock features as needed.
Basic Equipment List, I will update the list later with model numbers, etc.:
1 – LG 50 Inch LCD 1080P Display.
1 – xLobby Client with 4 zones of audio, 5 RS232 ports, S3 dual Video graphics card.
1- x xLobby Client with Blu-Ray storage and playback, S3 HDMI -VGA dual video card.
1 – xLobby Mini Client.
1 -Yamaha 7.1 Channel Stereo Receiver
1 – 2TB Maxtor  nas  Drive
1 – 1TB USB External Western Digital work book drive
1 – IOMega 1.5TB External USB Drive
1 – Earthquake in-wall speakers and 12″ subwoofer, configured for 7.1.
1 – Insteon \  UPB  Lighting
1 – xLobby L.E.D Ribbon Lighting
1 – 2 x xLobby 15″ Touchscreens, Inwall and desktop
1 – 12″ Wi-Fi Webtablet
1- APC Battery Backup and Power Conditioning
1 – GE Security System
1 – Panasonic IP based PTZ network camera
Images:
The shot below shows the equipment rack and xLobbys inwall 15″, 10.4″ black touchscreens. The 15″ touchscreen has xLobby's blue L.E.D lighting strip under the frame to provide accent lighting against the wall, this was done only for the xLobby demo room to provide a cool visual effect and is not a normal feature for stock units. Also note he blue accent lighting for the baseboard and crown moulding in the room. xLobby can control the brightness, colors and color changes by mixing L.E.Ds for different visual effects such as color fading flashing, etc.
The shots below shows the xLobby Touchscreens with room accent L.E.D lighting.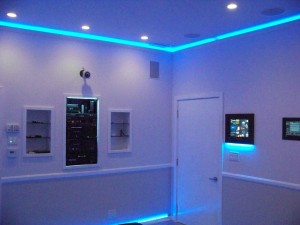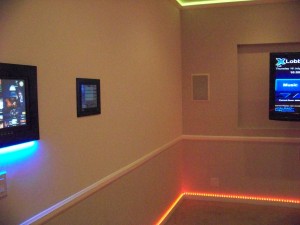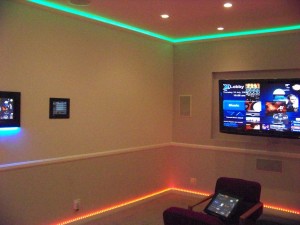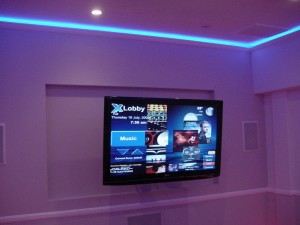 Shots of the xLobby room with the ceiling lights off and only the L.E.D accent lighting.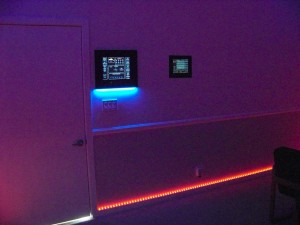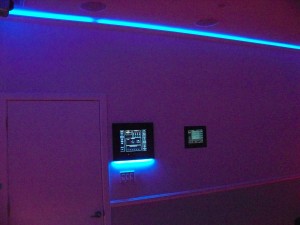 Videos:
xlobby-room-accent-led-lighting
The room is almost finished but is under going constant improvements and minor tweaks here and there. I will post more images and videos when I can. The furniture \ seating and rack dressing will be the last things we do.
This news post will be updated over the next few days.
Wes Black