xLobby can communicate with virtually any lighting protocol on the planet but this does not mean some technologies are perfect.
Insteon provides a simple and low cost retrofit solution for lighting, users need to understand its limitations and drawbacks, Insteon can have its flaws. It is strongly advised that potential xLobby customers be made aware of some of the issues below, thus adding to the cost and labor required to troubleshoot them.
Realistic facts about insteon:
1. Subjective to new high frequency energy saving lighting ballasts that will require a low pass filter otherwise these type of products can wipe out your complete home automation system. Calrad rescently upgraded hundreds of new energy saving flourescent light fixtures that used new high frequency ballasts, these ballasts emit so much electrical noise that it completely wiped out the communication links between the PLC\PLM to all the insteon products in the xLobby demo room. We had to install several filters in the electrical sub panel to isolate the xLobby room completely from the rest of the buildings. This was the most logical solution otherwise we would of had to install almost over 200 filters at every lighting fixture. Granted this is not the normal lighting setup for the average home owner but as we use more modern products that use high frequency switch mode power supplies the AC electrical noise issues become more prevelant.
2. Use of only a few devices can become a challenge and difficult task to setup, if the PLC\PLM are on a different phase then the Insteon wall dimmers or switches it will be difficult for them to communicate withn each other, requiring wired or even wireless phase couplers.
3. Calrad has spent lots of R & D time to optimize our code to minimze common issues with the insteon hardware and its different protocols. Special features have been added to insure proper updates and polling of the system.
4. Noise on the electrical system is Insteons and other AC carrier based systems worst enemy.
5. Never Plug a PLC\PLM or other Insteon device into a surge protected outlet strip or a AC- UPS  or battery backup system this will definately impede its ability to communicate properly with other insteon products. Even computer sitchmode power supplies can cause electrical noise that effects insteon devices. So in some cases its better to use a filtered AC strip for your AV gear and computer or locate the PLC away from the other equipment causing interference.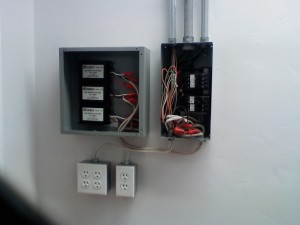 Image of xLobby room sub panel with Low pass filters.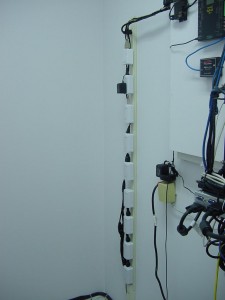 xLobby equipment room showing 6 ft. Power strip with 6 x Insteon Appliance modules (2456S3), 1 x PLM (2412M),  1 x wireless access point (2443). UPB 1 x PIM modules.
Common uses for Insteon.
Scene and remote-control lighting
Security alarm interfaces and sensors
Home sensors (e.g. water, humidity, temperature)
Access control (e.g. door locks)
Heating and cooling (HVAC) control and management
Audio-video control
Appliance management
Energy savings
Insteon how it works: http://www.insteon.net/about-howitworks.html
Technical Information: http://www.insteon.net/about-technicalinfo.html
Insteon Whitepapers: http://www.insteon.net/pdf/insteondetails.pdf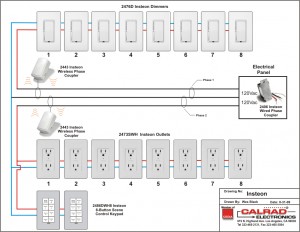 Screenshot of Insteon 2 phase setup
PDF Link of Insteon 2 phase setup: insteon-fact-sheet
Insteon products have served our xLobby customers well but the technolgy requires careful planning and a good understanding of its limitations compared to other technologies or hard wired lighting control systems. A side note is that when we ran several UPB lighting products in the same room they seemed un-effected by the noise, this does not mean that UPB technology does not have issues with noise or other products that may cause noise in a different frequency range but can offer additional solutions when one technology will not perform.
This news post is subject to frequent changes or updates.
Wes Black