A few new features, bug fixes are listed below.
1. Builtin Screen Saver for xLobby that will provide a slide show of either a  Blank screen or images from xLobby's picture, movie libraries with idle activation time settings none, 1 min, 5min, or anytime frame you want to set it for. The screen saver wakes up on mouse, keyboard, IR, RS232 navigation commands.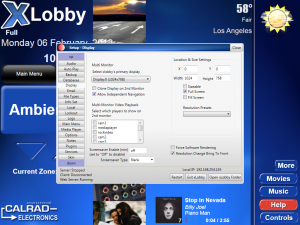 2. Bug in auto backups (old auto backups are deleted eventually to save space).
3. Spider for google movie covers changed to look for movie posters (more accurate results that way, and posters give a different look).
4. Misc. ipad interface fixes.
5. Improvements on Client Server syncing.
The native Android support xLobby's xPad webserver system for Android will be released within the next few weeks.
Wes Black